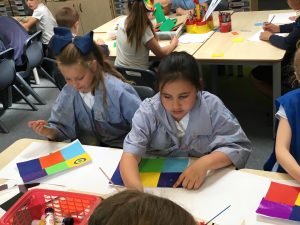 We are required to base our teaching on the National Curriculum for England. It sets out clear, full and statutory entitlement to learning for all pupils. It determines the content of what will be taught, and sets attainment targets for learning. It also determines how performance will be assessed and reported.
The National Curriculum comprises of the following subjects: English, mathematics, science, art and design, computing, design and technology, geography, history, languages, music, physical education and religious education. In addition there will be elements of health education and citizenship, although these are not statutory requirements.
On entry into Foundation Stage children will be assessed informally and this will form a baseline assessment. Throughout the Foundation Stage (Nursery and Reception) these assessments will be updated. In June of Foundation Stage 2 a Statutory Profile will be completed for each child. This will form a baseline on which progress will be measured throughout their time at school. Progress will be measured against targets set in English and mathematics by teacher assessment based on the Assessing Pupil Progress criteria.
All children in the school are grouped as near as possible to their age group but it cannot be assumed that a child will follow a set year group throughout school. Variable conditions such as year group numbers, school budget and individual abilities may mean that children could be placed in mixed age groupings or set for certain subjects according to ability.
Any child who experiences difficulties within a learning situation will be supported in the classroom by the class teacher and if deemed necessary by a special needs support teacher. If a special need is recognised, in whatever form, then the child's name will be recorded on the "special needs" register
Religious Education and Assemblies
The school has no religious affiliation but education about religion and moral aspects is undertaken in accordance with the guidelines laid down by the Local Authority as directed by the Education Act. Daily assemblies are an important feature and add to the corporate life of the school. Parents wishing to exercise their right to withdraw children from R.E. or assembly time should contact the class teacher.
Sex Education
School Governors have agreed that while sex education is not provided as a separate subject it will be included as part of Science and Health Education matters relating to growth, development and reproduction appropriate to the age of the child.
Equal Opportunities
At Stanhope Primary School we aim to give every child equal opportunities by offering a broad and balanced curriculum relevant to their needs regardless of gender, culture, religion or ability.
Special Educational Needs Policy
Many children, at some time in their school career, will have a special educational need of some kind. The Education Act 1981, which provides for the identification and assessment of children with special educational needs and for the determination of the educational provision to meet those needs, came fully into operation on April 1, 1983. Where any child's needs are deemed to be severe or complex, then the L.A. is required to assume statutory responsibility for implementing procedures. However, for the significant number of other children whose needs can be met from within the resources normally available to schools, and then it is the responsibility of individual schools to identify such children and make the appropriate arrangements to ensure that their needs are met and kept under review. Here at Stanhope Primary School it is the responsibility of each class teacher to identify the educational needs of all pupils including those with special educational needs and to look for assistance from colleagues and outside agencies where appropriate. We believe the key to progress for the schools provision for Special Educational Needs pupils is maximum involvement of parents, pupils and staff.
The parents of any child receiving additional support on a regular basis will be informed verbally at the first parents evening of the academic year. Parents of children in reception classes who are experiencing difficulties will be informed in the summer term.
AIMS
The school aims to meet the educational needs of all pupils.
It will offer a curriculum in which pupils with SEN will learn effectively.
To ensure that the progress of pupils listed on the SEN Register is monitored and recommendations implemented.
To encourage and support parents to be involved in their children's education: Focusing on those of SEN pupils.
To develop appropriate links with feeder schools, comprehensive schools, special schools and units.
Reporting on Children's Progress at School
It is the School's present policy to have two parents' evenings per year, where parents have the opportunity to discuss in private with the class teacher the progress of their child. The school feels it is the responsibility of the parent to make the effort to represent their children on these occasions. Every child from Foundation Stage 2 onwards will be provided with a written report at the end of each academic year and for children in Years 2 and there will also be details of statutory assessment.
If you have any questions about our curriculum or policy's please contact the school office.
Please click on the links below to access the Yearly Overview for Years 1-6 and the Maths Overview and Objectives for Years 1-6
The complete Primary National Curriculum can be accessed at: Click Here