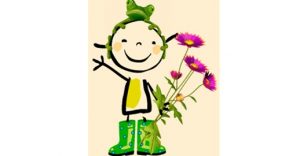 Forest School in the Early Years
Why Forest School?
The Forest school approach to learning was first introduced in Denmark for pre-school children. It was found that those who had attended forest school developed strong social and communication skills. They had high self-esteem and confidence in their own abilities and were able to work as part of a team with a strong emphasis on cooperation and partnership. These skills in turn helped them to achieve academically in school.
At Stanhope Primary our Forest school has been developed on site. It grew from the staff's desire to make a positive impact on children's learning while encouraging children to understand and appreciate our natural world.
Children will participate in motivating and achievable tasks in a woodland environment.
 Typical Forest School Activities
Splashing in puddles,
rolling in leaves,
catching rain on a tarpaulin,
making mud pies,
looking for worms,
painting on a leaf,
painting with mud,
exploring and collecting woodland materials to make natural art,
shelter building and mini beast hunts
We will be participating in Forest School Activities every Tuesday until the end of term
How can parents help?
Please ensure your child comes to school prepared with coats in the event of rain and cold.
It can often be cooler than expected under the shade of the trees.
Children will need to have their arms and legs covered with long sleeved tops and full length trousers to reduce the likelihood of cuts and scrapes.
Old leggings or jogging bottoms and long sleeved t –shirts that may get muddy are ideal for Forest School.
Children do not wear school uniform on Forest School days.
Appropriate footwear must be worn
As Forest School takes place in all-weather we will provide waterproof clothing, including wellies if it rains
If your child prefers to wear their own wellies they can wear them to school.
If you have any questions, please do not hesitate to come and speak to me.
Thank you
Mrs Warrington
Nursery teacher