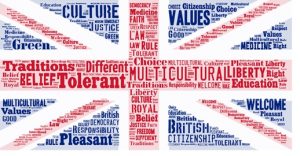 At Stanhope Primary we are very proud of the spiritual, moral, social and cultural development of our children.  Furthermore, we also recognise that spiritual, moral, social and cultural education includes a duty to champion the principles of democracy and challenge prejudice and intolerance.  These values are enshrined in five key principles:
•   Democracy
•   The rule of law
•   Individual liberty
•   Mutual respect
•   Tolerance of those of different faiths and beliefs
These values flow through Stanhope Primary, from our ethos and values, to our policy and practice in the classroom.
In the classroom, during daily school assemblies and in pre and after school provision, we deliver a broad and balanced curriculum, in accordance with National Curriculum requirements, prompting the spiritual, moral and cultural development of pupils at every opportunity; preparing our pupils for challenges, responsibilities and experiences that life may offer.
We deliver through a broad range of learning opportunities, lessons at Stanhope give children an understanding and appreciation of how different cultures have shaped our school, local community and country; the willingness to share and reflect on their own and others' faith, beliefs and values; opportunities to investigate moral and ethical issues without conflict, prejudice and bias; a context to use their developing social skills to work with others, regardless of gender, race or sexuality; the belief that they can make a positive contribution to the society in which they live of law to our policy and practice in the classroom. Other opportunities include:
Use of circle time to develop relationships and manage conflict.
Assemblies to promote unity in school, to develop citizenship and social responsibility both in school and in the local community.
Visits to a range of places of Worship to develop tolerance and respect for other faiths, cultures and beliefs.
Visitors to school such as the Community Police, Childline Services, Neighbourhood Watch, Magistrates, E-safety visitors to promote personal and social responsibility and citizenship in our wider community.
School Council promotes pupil voice in the school community and defines changes to improve our school. The School Council also has an annual visit to the South Tyneside Council Chambers to further understand the role of the Council and Mayor in society.
Use of the SACRE syllabus for RE to develop understanding and tolerance of a variety of faiths and beliefs to build succesful citizens in a multi-cultural society.
Supporting charities such as Children in Need, Child Line, Macmillan Cancer, Comic Relief, Royal British Legion to understand our place in the wider world and how we can work together to support others.