Stanhope Primary School believes that the use of information and communication technologies in and out of school brings fantastic benefits. However, recognising issues around e-safety and planning accordingly will help ensure appropriate, effective and safer use of electronic communications.
On this page you will find a number of resources which will hopefully allow parents and students to make informed choices when communicating online.
For a quick guide to E-Saftey, please click here to download Stanhope Primary School's E-Saftey booklet.
From our E-Safety Presentation led by Phillippa Chippendale (E-Learning Advisor) from The Open Zone at The Word. We feel this information might be a useful support to all parents and carers within our school community:
Social Media and Networking

Social Networking sites are among the fastest growing phenomena on the Internet. Among the most popular social networking sites are Facebook, Instagram, Pinterest  and Twitter. All of them provide a excellent way  to stay in touch with family and  friends; sharing photographs and videos, comments or even playing online games. If used carelessly, however, they can expose you and your children to dangers.
A new craze is hitting the streets, it can be fun but can also lead to bullying and friendship issues- Snapchat Streak.
The NSPCC have developed a site where you can check which social networking sites your child uses and whether it is safe or not.  Visit: www.net-aware.org.uk
For more information visit:  www.thinkuknow.co.uk/parents
What Apps Social Media Parent Handout
We have compiled a list of some of the big hitters in social media and their risks. Please be aware that this list is by no means complete and will be constantly evolving. We hope it gives you a starting point .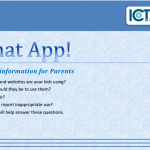 Click  here to download the pdf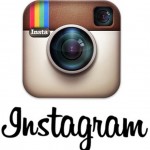 Instagram is a popular social network that every parent needs to be aware of. Instagram is a photo editing and sharing 'app' that allows users to edit photos taken on their phone and post them to Instagram, Facebook and Twitter with the click of a button. Instagram photos are open to the public by default and Instagram lets users browse public photos posted by others and by people whom they follow.
This Socially Active website has lots of information about Instagram that you may find useful.
Tik-Tok
Click here for important parental guidance regarding the Tik-Tok app. 
Cyberbullying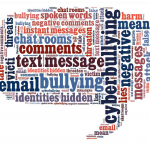 Technology gives our children more ways to connect, socialise, and communicate with each other than ever before. Unfortunately, some young people use email, Instant Messaging, and mobile phone photos and text messages to embarrass or bully others. Children's digital messages can also be edited to change the meaning then forwarded to others to embarrass, intimidate, or insult.
38% of young people have been affected by bullying online, through social networking websites or mobile phones.
For more information visit Kidscape.org 
Online Gaming
Games are heading online now more than ever. Everything from Tetris to football games can be played online and against other human opponents rather than computer controlled opponents. Players can usually communicate with one another; perhaps using onscreen messaging which is typed during the game play or some games allow voice communication so that players can swap their thoughts freely via a headset whilst competing just like having a telephone conversation.
Today's games consoles can be a great way to bring the family together. Whether it's bowling on the Nintendo Wii or Fifa on the XBox 360, families can be involved in activity to develop communication and relationships.The very best gaming is safe gaming – which means games should be played responsibly.
The ideal way to ensure that your children and teenagers are playing the right games, and playing sensibly, is to take an active interest in what they are playing, whether your children play on games a PC, Xbox 360, Nintendo Wii or Sony PlayStation.
Download a useful parent sheet to give you the low down on online gaming.
Top tips
Keep a clean machine: Before your children start playing online games, make sure that your computer has an activated security suite: a firewall, anti-spyware software, and anti-virus software.
Check the game rating: Checking for a game's age rating on game packages, online or in some mobile app storefronts – is a great place to start in terms of gauging its age-appropriateness. Many games also have descriptions that detail exactly what type of content a parent would want to know about, along with specific examples.
Make passwords long and strong: Ensure your children have strong passwords for their gaming accounts. Passwords should be at least eight characters long and a mix of upper and lowercase letters and numbers and symbols.
Remain positively engaged: Let your kids know they can come to you if they feel uncomfortable when playing a game. Participate in the game with your kids
Gaming and Addiction
Online gaming can be a fun way for kids to connect with others, but it's important for them to understand the risks and know how to handle certain situations.
One of the issues of computer gaming is that young people can become addicted to the games that they play
Download a useful parent sheet to give you the low down on game addiction.
Pegi Ratings
Age ratings are systems used to ensure that entertainment content, such as films, videos, DVDs, and computer games, are clearly labelled for the age group for which they are most suitable. Age ratings provide guidance to consumers (particularly parents) to help them decide whether or not to buy a particular product.
Pan European Game Information (PEGI) is a European video game content rating system established to help European consumers make informed decisions on buying computer games with logos on games' boxes.
Click here for more info

For more information about online gaming visit: www.askaboutgames.com 
Rules and Tools Age based guidelines
Rules 'N Tools Age-Based Guidelines 14-18
Rules 'N Tools Age-Based Guidelines Eight-Ten
Rules 'N Tools Age-Based Guidelines Eleven-Thirteen
Rules 'N Tools Age-Based Guidelines Two-Seven
Do computer games cause aggression in children?
There have been several high profile studies investigating the link between violent media content and childhood aggression.
Here is a link violent games that you may find interesting.