At Stanhope Primary, the children begin their journey towards writing by making marks. In the Early Year Foundation Stage, the children are given lots of opportunities to mark make using a variety of media and materials both indoors and outdoors on a small and large scale. Children are always given opportunities on a daily basis to develop their gross motor skills. Fine motor control is promoted through finger gym activities, developing dexterity, strength, dominant hand and good pencil control. Handwriting develops as children improve control over their bodies. 
Children learn to write in the EYFS through a combination of adult-directed activities and child-initiated play. They are taught to write their own name, often their first words, when they are physically ready.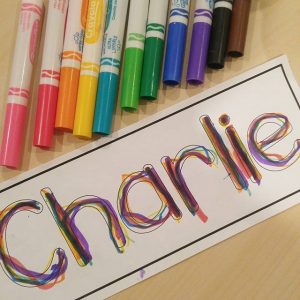 In Reception, the children are taught individual letter shapes and formation through the RWI sessions. Children are encouraged to be independent creative writers with a 'have a go' attitude in their independent play using all of the areas in the foundation stage unit. All practitioners in the unit foster and celebrate early mark making with children encouraged to make signs and labels with children's work displayed throughout the setting.
Within Key Stage One, the children continue their writing journey by developing pencil control. Handwriting sessions take place from Year 1 to Year 6 so the children develop a fluent joined handwriting style. 
From Year 1, within English lessons, the children learn a variety of writing genres including narrative, non-narrative and poetry. Teachers use class novels to allow opportunities for the children to write using their knowledge of the features of the genre within their own writing. Over the years, the children will write stories, poems, diary entries, instructions, newspaper articles, letters and many more other genres.